Happy New Year, everyone!! Hopefully 2009 will be awesome! :)
This is a series that I've wanted to do for a while, and I've begun to do some of the sketching for them. It will be a series of storm goddesses. I think there will be at least 3, but I may do more if I get motivated. I want to get at least 3 of them sketched out before I start painting them. I have a fascination with the weather. I love storms... as long as they don't get too severe!
Above is a portion of my sketch for Rain. I cropped most of the background out of it. That will come together in the painting for the most part anyway. And all of her foot will be present. ;) I've made a few adjustments to this since I scanned it. So I've since adjusted her far cheek area a little. I'm pretty happy with her, so I'm going to move onto the next one. As of now, I'm planning on that one being Lightning. :)
I've also started another ACEO. I did the sketch for it and all I need to do is paint it. And those are pretty quick. It's another little dragon one. I haven't felt the greatest the past couple of days, so I've taken a couple days off. I hope to get some painting done tomorrow though!
And finally, I've added a few mugs to my Zazzle gallery! Those are fun to design! I'm going to do some more soon. I need to add more stuff to my Zazzle shop anyway. :) See all mugs
HERE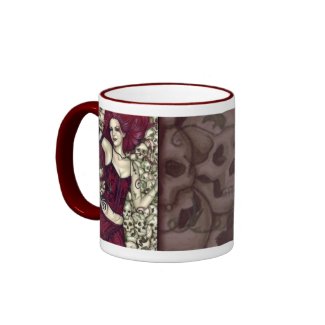 Bed of Skulls mug
by
elvenstarart
Design
personalised mugs
With
Zazzle.com
See other
Creatures Races Mugs